Verto 64 – 64×64 ADAT channel von/bis Dante konverter
64 x 64 ADAT <> Dante Converter

64x64 ADAT Kanäle ins Dante Netzwerk: Machbar.
Dante ist der de-facto Standard zum Vernetzen von Audiogeräten. Mit der Verto 64 ist es nun möglich, bis zu 64 x 64 Kanäle über ADAT I/O´s auf einfachste Weise in ein Dante Netzwerk zu integrieren. Egal, welches ADAT Gerät – die Verto 64 stellt alle 64 x 64 Kanäle sofort "plug and play" im Dante Netzwerk zur Verfügung.
Das ultra kompakte Gerät bietet insgesamt 16 optische ADAT TOSLINK Buchsen: 8 zum Übertragen von ADAT zu Dante, sowie weitere 8 Buchsen für die andere Richtung.
Auf der Dante Seite befinden sich zwei RJ45 Buchsen, vorbereitet für redundanten Betrieb. Die Verto 64 unterstützt bis zu 96kHz Samplerate, MIDI Buchsen zur Steuerung, sowie BNC Wordclock Buchsen für eine externe Synchronisation. Zwei weitere Versionen der Verto sind verfügbar: 32×32 ADAT Schnittstellen:
VERTO 32
64×64 MADI Schnittstellen:
VERTO MX
19″ Befestigung Zubehör:
rack mount kit
Ihr ADAT Equipment verdient es, zu Dante kon-verto-d zu werden.
VERTO 64 INPUTS & OUTPUTS


8 x ADAT I/O (TOSLINK)
Each ADAT port can transfer eight channels at a sample rate of 48 kHz (= 64 In + 64 Out channels). With 96 kHz it is possible to convert 32 Dante I/O to ADAT (S/MUX2).

MIDI I/O
MADI and Dante data streams can be used to send and receive embedded MIDI messages. A very useful feature, to remotely control MIDI equipment in the studio rack or on stage from the FOH.

Word Clock I/O
BNC with 75 Ohm termination. Set to on by default – can be changed with the remote software via the network connection.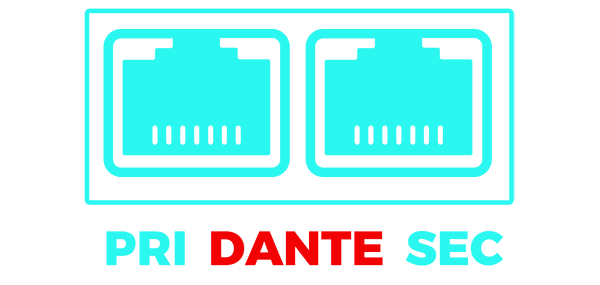 Dante Network I/O (redundant)
Two RJ-45 ports connect to any Dante audio network. Simply connect a LAN Ethernet cable (CAT5/CAT6) to the primary port. The secondary port takes automatically over in case of a network error (Dante Port Redundancy).
Dante I/O
2x RJ-45 Ethernet port (PRIMARY/SECONDARY), 1 GBit Network

64 x 64 channel I/O (Dante Brooklyn II board built-in)
ADAT I/O
VERTO 32: 4x ADAT Input + 4x ADAT Output, optical TOSLINK
Channel count:
32×32 channels at 48kHz,
16×16 channels at 96kHz
VERTO 64: 8x ADAT Input + 8x ADAT Output, optical TOSLINK
Channel count:
64×64 channels at 48kHz
16×16 channels at 96kHz
MIDI I/O
2 x DIN5 connector for MIDI embedding/de-embedding
Wordclock I/O
BNC: 1 x input, 1 x output
75 Ohm Termination set by default (switchable via Dante)
Power Supply
14.4VA (1.2A at 12V)
Polyfuse internal, self-resetting
1 x power supply included
Operation
Temperature range: 41°F up to 113°F (+5°C up to +45°C)
Humidity: <75%, non-condensing
Weight/Size
Weight: 0,9 kg
Dimensions: 22 x 9 x 4,5 mm (without rack ears)
Optional accessories
19" Rack mountain kit, metal (for mounting 1 x Verto in a 19" rack-space)
Multi-range Power Supply 12V (EU)
ADAT Cable Locking Plate (Part. No. 7027)
Verto 64 – 64×64 ADAT channel von/bis Dante konverter
Dantify your equipment!

Seamless integration of up to 2 x 8 ADAT devices into the fastest growing Audio-over-IP Eco System.