A32pro Dante Konverter Multimode
32 x 32 AD/DA <> MADI <> ADAT <> Dante Converter

The A32 Dante brings our flagship into the Dante network: All interfaces, whether analog, MADI or ADAT, are brought using the integrated routing matrix in the Dante network. Of course, all features of the A32 are still available.
The A32 Dante is not just a converter – it's also the ultimate problem solver thanks to its incredible flexibility. Overall, the A32 Dante processes 384 channels, all highly integrated into a 1HU rack unit. Enumerating all the configurations of the A32 Dante is almost impossible: in addition to the 32 x 32 studio-grade balanced analog inputs and outputs up to 192kHz, there are four ADAT I/O, two MADI I/O ports, and of course Dante, brought out redundant on two RJ45 jacks. Everything freely freely routable in groups of 8 channels each.
Clarity and operational reliability has first priority: Both Dante and MADI are laid out redundant, an essential feature for live operation! Of course, a second power supply can be connected, and thanks to the four TFT screens, the user always has full control.
Packed into a compact 1HU, the highly integrated converter is equipped with 32 x 32 balanced analog channels, brought out on 8 D-SUB connectors. They deliver studio levels up to +20dBu, individually adjustable in 1dB steps. The sophisticated design, using low latency Cirrus Logic converters, accompanied with a temperature-compensated clock and jitter reduction PLL, guarantees best crystal clear sound up to 192kHz.
Even operation of the A32 Dante is done without any compromise, almost self explaining, as with all our products: A total of four TFT screens show the levels of all 64 channels, it can't be done better. Controlling the unit also benefits from the screens: a sophisticated help system built into the device provides context-sensitive help for the selected function at all times. Control on the PC is of course also possible via USB, MIDI or MIDI over MADI.
The headphone can be connected to any analog or digital input or output: ideal for control or monitoring. For complex tasks, a mix especially for the headphones can be created using all available channels, and stored in up to seven mix presets.
All in. Ultimate high density smart converter.
384 channels at your fingertips.
The ultimate problem solver.
DANTE, MADI & ADAT I/O.
Four TFT screens.
A32pro Dante INPUTS & OUTPUTS


4 x 4 D-Sub25
8 analog channels on each D-Sub25 TASCAM pin-format, max 192kHz Gain/Levels: -8dBu…+20 dBu (1dB steps).

MADI I/O: BNC + Optical SC
The coaxial I/O allows cable lengths of up to 100 m. The optical I/O features a Multimode SC connector. A Singlemode version is available.

USB Type-B
For firmware updates, plugin installation and remote control from a host computer. The A32 Dante appears as a MIDI device.

4 x 4 ADAT TOSLINK
Each ADAT port transfers eight channels at a sample rate of 48kHz (= 32 In + 32 Out). ADAT port 4 is switchable to optical S/PDIF format.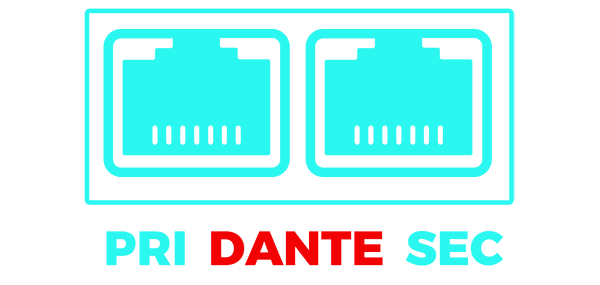 Dante Network I/O (redundant)
Two RJ-45 ports connect to any Dante audio network. Simply connect a LAN Ethernet cable (CAT5/CAT6) to the primary port. The secondary port takes automatically over in case of a network error (Dante Port Redundancy).

2x PHONES STEREO TRS (FRONT)
Monitoring of every stereo/mono I/O or one of 7 submixes via an additional stereo DAC.

Word Clock I/O
BNC with 75 Ohm internal termination.
On/Off via display.

MIDI I/O
For Remote Control and
MIDI-over-MADI
Redundant Power Supply
Ground-loop free, coaxial DC connector with secure, stable and relaible screw-lock. One PSU is included. The affordable replacement power supplies are available from any Ferrofish distributor.
A32pro Dante SPECIFICATIONS
Dante I/O
2 x RJ-45 Ethernet connector (CAT5/6 cables),
64 x 64 channel Brooklyn II board built-in.
MADI I/O (AES10)
Optical (multimode) + Coaxial interface
64 channels @32kHz, 44.1kHz, 48kHz
32 channels @64kHz, 88.2kHz, 96kHz
32 channels @128kHz, 176.4kHz, 192kHz*

* both MADI ports work independently to achieve full 32+32 channel transmission
Support of MIDI over MADI.
Latency: 3 samples
Redundancy: Automatic switching between optical <-> coax MADI when signal lost.
Analog Inputs (AD)
4 x CS5368 (Cirrus Logic)
4 x DSub25 / Tascam
Analog switches: +20dBu, +13dBu, +4dBu
Digital gain: +20dBu … -8 dBu, 1dB steps
Latency
@48kHz: 12/fs, 0.25ms,
@96kHz: 9/fs, 0.09ms,
@192kHz: 5/fs, 0.03ms


OpAmps
RC4580 + OPA1664
Level indicator
TFT screen, 28 levels
Analog Outputs (DA)
4 x CS4385 (Cirrus Logic)
4 x DSub25 / Tascam
Analog switches: +20dBu, +13dBu, +4dBu
Digital gain: +20dBu … -8dBu, 1dB steps
Latency
@48kHz: 7.8/fs, 0.16ms,
@96kHz: 5.4/fs, 0.06ms,
@192kHz: 6.6/fs, 0.03ms
OpAmps
RC4580 + OPA1664
Level indicator
TFT screen, 28 levels
Headphones Out
2 x ¼" (6.3mm) TRS jack, stereo.
Provides an independent stereo channel.
Selectable mono/stereo source or one of 5 mixes of all inputs and outputs.
Digitally controlled volume level.
ADAT I/O
4+4 optical interfaces (8 channels each with 48 kHz)
32 channels @32kHz, 44.1kHz, 48kHz
16 channels @64kHz, 88.2kHz, 96kHz
n/a @128kHz, 176.4kHz, 192kHz


Latency: 3 samples
SPDIF I/O
ADAT 4 I/O can be reconfigured as S/PDIF I/O.
The input includes a sample rate converter (performance of SRC: -128dB)
The output follows the sample frequency of the A32.
MIDI I/O
2 x DIN5 connector for remote control of the unit
Conversion MIDI <> MIDI over MADI possible


Wordclock I/O
BNC: 1 x input, 1 x output
75 Ohm Termination switchable for input


Power Supply
12V, 3A
2 x input jacks with screw lock for redundant power.
Voltage supervision, warning message on screen when PSU input fails
Internal resettable polyfuse
1 x power supply included
USB Port
1 x USB 2.0 for Remote/Updates
Additional Features
192 kHz operation (S/MUX up to 192kHz).
Individual delay-compensation of all analogue outputs.
DSP Plugin-ready
MIDI in/out plugs Headphone /submix output for easy control.
MIDI over MADI Preset Management
Extensive routing/mixing possibilities.
Redundancy (MADI I/O, Dante I/O, Power Supplies).
Internal Clock
Temperature compensated oscillator, with high accuracy.
Initial accuracy: +/-1.5ppm
Over temperature range: +/-2.5ppm
Aging: +/-1ppm
PLL
Digitally controlled PLL / Jitter reduction system
Output jitter: 50ps … 100ps typ.
LCD Displays
4 x TFT Screens for the complete control of all analog I/O levels and all settings of the unit
One Key Control provides an easy control of all functions.
Multi language help pages guides available (No need to study the manual.)
Audio Core Processor
Sharc DSP ADSP-21489 / 400MHz.
Routing and processing of of all 384 audio channels.
Mixing to headphone output.
Independent mixing to selectable analog output pair.
Calculation of DSP plugins.
Dimensions
1HU
Depth: 27cm (10.6") (including connectors)
Weight
4.1kg (9 lbs)
Ambient temperature
41°F up to 113°F (+5°C up to +45°C)
A32pro Dante Konverter Multimode
MULTI-FORMAT SMART CONVERTER & ROUTING SYSTEM. Analog, MADI, ADAT, Dante, AES67.