Engineer, Technician and Programmer Vincent Barker about using RME audio interfaces and Ferrofish converters.
Vincent Barker has been performing live sound, FOH duties and keyboard-teching since the mid 70's. Having started out in his native Australia, he moved to the UK in 1983, working for a variety of audio production companies that specialise in live sound production. His long list of credits includes some of the best known pop, rock and electronic acts from around the world; Paul McCartney, Elton John, OMD, Mike Oldfield, Simply Red, Supertramp, Will Young, Gareth Gates, the Spice Girls, S Club 7, Björk, Cher, Guns and Roses, Lenny Kravitz, Herbie Hancock, the Beastie Boys and Run DMC.
Most recently Vincent has been out on tour with Scottish band Simple Minds, probably best known for their song "Don't You Forget About Me", which featured as the title track from the classic 80's movie The Breakfast Club. Vincent was kind enough to tell us a bit about the band's setup, which features the RME MADIface XT audio interface and the Ferrofish A32 Dante AD/DA Converter.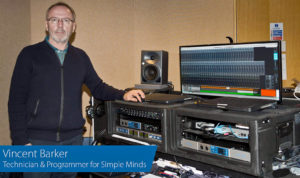 "I stopped doing sound in the early 90's", Vincent explained. "Since then my work has been concentrated on keyboard teching and running playback systems. I see my role as assisting keyboard players and musical directors to realise their musical needs, by designing and maintaining reliable keyboard and playback rigs for touring. This involves researching and specifying reliable equipment and software, building and operating said rigs in live situations. Often these need to be as small as possible for freight reasons, without compromising on quality."
"The Simple Minds setup consists of 2x Apple Macbooks running Ableton Live, 2x RME MADIface XTs, an EXbox MADI switcher for automatic redundant switching, and a Ferrofish A32 Dante. Ableton is triggered by the drummer's pads, via a MIDI controller which is split to both laptops. Live audio from Ableton is sent to the FOH, along with click tracks and audio cues to the band's monitors. The MIDI program changes are also transmitted from Ableton, along with the MIDI clock to the three guitarists' pedal boards."
"The analogue outputs from both of the MADIface XTs go to my personal monitoring (speakers and headphones). This allows me to work and program independently from the monitor system, and to listen to both rigs simultaneously to check sync. I chose the MADIface XTs because I need more than 10 channels, which is the limit of most small single audio devices on the market. Although we don't use a vast number of channels for the FOH, I need various clicks and cue outputs for stage, plus I also like to run aux mixes for myself for programming. I also need high quality analogue record inputs, MIDI in and out, plus a headphone amp and stereo analogue outs, all in a small form factor. The output metering on the XT is also a reassuring feature when running the system."
Ferrofish A32 Dante
The Simple Minds rig also includes the Ferrofish A32 Dante, the latest AD/DA Converter from German manufacturer Ferrofish, which was released earlier this year. With 32 analogue ins, 32 analogue outs, plus ADAT, MADI and Dante connections, the Ferrofish A32 Dante is arguably the most comprehensive and cost-effective AD/DA Converter currently available.
"The Ferrofish A32 Dante promises me the full compliment of output formats I need: analogue, Dante and MADI after the redundancy system. Our FOH engineer has requested that we run Dante to the FOH and monitor desks on the next tour, but I also need the analogue option for any situation where we won't have complete control on the supply of the sound equipment."
"I've never used Ferrofish products before but I've been very impressed so far by the build quality and the simplicity of setting up the system for my needs. The GUI is so intuitive that I was up and running in minutes without any need to refer back to the manual. The bright and easy to read front panel output meters are a godsend and have become my reference point now for setting my levels in programming."
"The GUI is so intuitive that I was up and running in minutes without any need to refer back to the manual."
To finish off, we asked Vincent what's most impressed him about the RME and Ferrofish combination. "Reliability, high quality audio and software, and build quality. Touring live concerts, day after day, city after city can bring many unexpected challenges to each working day. Knowing I have the best audio hardware for the job removes one more variable from the equation."
Our thanks to Vincent Barker. To find out more about his work as an engineer and photographer, visit his website here.
You can also keep up to date with Simple Minds' via the band's homepage and facebook pages.