Front of House engineer John Gale, playback engineer Chris Elms and Musical Director Matt Robertson choose Ferrofish.
Icelandic phenomenon Björk released her ninth studio album Utopia back in August last year. Known for her unique and avant-garde take on pop and electronic music, the singer's mesmerising live performances have also consistently drawn her critical acclaim.
In support of the latest album, Björk and her production team are currently out on a European tour, with dates including Iceland, UK, Spain, France, Denmark, Italy, Belgium and Sweden, with more likely to follow.
Musical Director Matt Robertson, alongside his colleagues Chris Elms and John Gale, was tasked with putting together a new playback rig for the show, deciding upon a selection of hardware from RME and Ferrofish. Matt was kind enough to speak to us about how the system operates, and why he prefers to use MADI for live audio setups.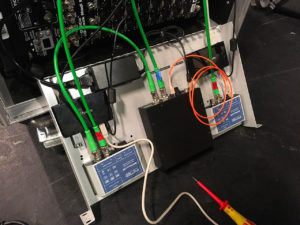 "There are two computer systems on stage using RME Fireface 802 interfaces, for both the audio and MIDI sides of the electronic drums and synth setups" explains Matt. "Both these machines can chase timecode, which is sometimes used to change patches and add automation where needed. The playback system uses dual RME MADIface USBs, linked to a MADI switcher, which deal with the multiple timecode systems for video, lighting and music."
"MADI for live work seems to be a really solid platform for large channel counts," Matt tells us. "It's relatively easy to route over longer distances, and unlike Dante or other ethernet beased solutions, it requires very little setup. You basically plug one cable in to one end, and one into the other end, and you have a bunch of digital channels that just work! The combination of using MADI with the redundant switcher has been really good for us. It's conveniant , physically small, quick to setup, and with the Ferrofish converter at the end of it, sounds really good!"
Ferrofish A32 – Redundant MADI streams, power supplies and MIDI over MADI
The MADI feeds are sent to a Ferrofish A32, a cost-effective 1U AD/DA Converter with 32 analogue inputs and 32 analogue outputs on D-Subs, plus ADAT and MADI I/O, and with both coaxial and optical MADI streams providing redundancy (a backup stream). The Ferrofish A32 also features comprehensive displays on its front panel, with level metering for all 64 channels visible at any time from the 4x colour TFT displays. Dual-redundant power supplies provide an additional level of security for recording, live and broadcast.
"The switcher then feeds a Ferrofish A32, which we chose because of the excellent sound quality, MADI redundancy, dual power supplies, and the small footprint – the audio side of this playback system only takes up 3U!" says Matt. "This setup allows us the option to run analogue out of the A32, or digital directly from the switcher."
By utilising 2x RME MADIface USBs, a Ferrofish A32 and a MADI switcher, the setup provides a reliable failsafe against issues during the live show. Were a fault to develop in one of the laptops, all audio channels will automatically be switched over to the backup streams and devices. This occurs without any dropouts, so the audience will never know that it's occured.
Both RME and Ferrofish also feature MIDI over MADI, which allows for MIDI data to also be transmitted via the MADI cable.
"We're also using MIDI over MADI, to get a redundant switching MIDI output from the playback machines. MIDI comes in from the playback laptops, through the RME Madiface USB, through the switcher and then to the A32, where it is converted to 5pin MIDI. From there the MIDI goes to a splitter, and to two iConnectivity USB Host units. This means that in the event of a playback laptop failing, not only does the audio switch to the backup machine, but the MIDI does as well!"
The RME MADIface USB is a longtime favourite for playback engineers, particularly in combination with Ferrofish Converters. We've previously spoken to the band Disclosure, as well as Ellie Goulding's engineer Will Sanderson and Emeli Sandé's engineer Oliver Waton, all of whom are using the RME and Ferrofish combo for their live rigs. The original Ferrofish A16 MK-II was retired last year, but Ferrofish has added a selection of variations with their new 16 channel Pulse 16 AD/DA Converter, with options for MADI and Dante (the Ferrofish Pulse 16 MX, and the upcoming Ferrofish Pulse 16 DX respectively). "At the Front of House we're using a similar RME Madiface USB setup, but this time with two ProTools machines, which take care of all the reverbs and delays for the show. These two machines chase timecode from the playback machine, and in this way we can automate all the FX throughout each song, and also have redundancy if we need it."
"There's 96 channels being sent to the FoH in total. Roughly 20 I/O for the FX sends and returns to the ProTools FX rack, along with around 24 outs from the playback rig. These are mainly different timecodes and clicks, along with MIDI info sent via MIDI over MADI."
Our thanks to Matt Robertson, Chris Elms and John Gale.
To keep up to date with the latest news and dates for Björk, visit her website here.
More:
Playback engineer Chris Elm's website
FoH engineer John Gale's website
Musical Director Matt Robertson's website