VERTO MX – 64×64 channel MADI Dante converter
64 x 64 MADI <> Dante Converter

Make MADI future-proof: Bring it to Dante.
Dante is the de facto standard for networking audio equipment. With the Verto MX it's now possible to easily integrate your existing beloved MADI equipment into a Dante network. Whether mixer or MADI converter – the Verto MX makes all 64 x 64 MADI channels immediately avalilable in the network: "plug and play".
The ultra compact device has two MADI interfaces, so both optical and coaxial equipment can be connected. If the MADI signal fails, the other interface is automatically switched so that secure redundant operation can be configured.
ATTENTION: Due to technical limitations the Verto MX does not work with the Blackmagic Constellation series.
On the Dante side there are two RJ45 sockets, also prepared for redundant operation. The Verto MX supports up to 192kHz sample rate, MIDI jacks for updates, and BNC wordclock jacks for external synchronization.
Two other Verto versions are available:
32×32 ADAT Interfaces: VERTO 32
64×64 ADAT Interfaces: VERTO 64
An additional 19″ rack mount kit is available here.
Verto MX - the ultimate upgrade to your MADI equipment.
VERTO MX INPUTS & OUTPUTS


MADI I/O (redundant)
MADI SFP (optical Multimode) + MADI Coaxial. Singlemode SFO module optional. The LC connector connects to SC via an included adapter cable. A SFP module with coax I/O is optionally available.

MIDI I/O
The integrated MIDI I/O ports in DIN 5pin format can be used to update the units' internal firmware using a simple USB-MIDI device.

Word Clock I/O
BNC with 75 Ohm termination. Set to on by default – can be changed with the remote software via the network connection.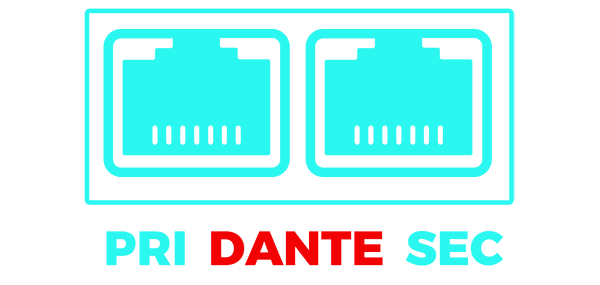 Dante Network I/O (redundant)
Two RJ-45 ports connect to any Dante audio network. Simply connect a LAN Ethernet cable (CAT5/CAT6) to the primary port. The secondary port takes automatically over in case of a network error (Dante Port Redundancy).
Dante I/O
2x RJ-45 Ethernet port (PRIMARY/SECONDARY), 1 GBit Network

64 x 64 channel I/O (Dante Brooklyn II board built-in)
MADI I/O (AES10)
Coaxial I/O (2 x BNC)
Optical I/O (2 x LC port via SFP, Multimode – Singlemode SFP module optional)
Channel count:
64 x 64 channels at 44.1, 48kHz
32 x 32 channels @ 88.2, 96kHz
16 x 16 channels @ 176.4, 192 kHz
MIDI I/O
2 x DIN 5-pin connectors for updating the unit
Wordclock I/O
BNC: 1 x input, 1 x output
75 Ohm Termination set by default (switchable via Dante)
Power Supply
14.4VA (1.2A at 12V)
Polyfuse internal, self-resetting
1 x power supply included
Operation
Temperature range: 41°F up to 113°F (+5°C up to +45°C)
Humidity: <75%, non-condensing
Weight/Size
Weight: 0,9 kg
Dimensions: 22 x 9 x 4,5 mm (without rack ears)
Optional accessories
19" Rack mountain kit, metal (for mounting 1 x Verto in a 19" rack-space)
Multi-range Power Supply 12V (EU)
MADI Singlemode Module
MADI SC / LC Adapter
VERTO MX – 64×64 channel MADI Dante converter
Compact. Professional. Dantified!

Seamless integration of professional MADI devices into the fastest growing Audio-over-IP Eco System. For Live, Studio, Broadcast and House of Worship applications.